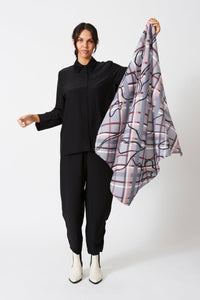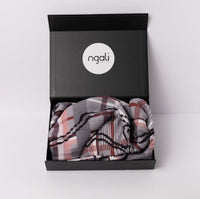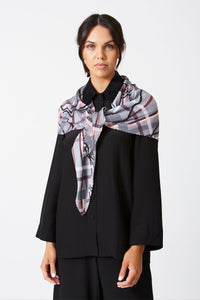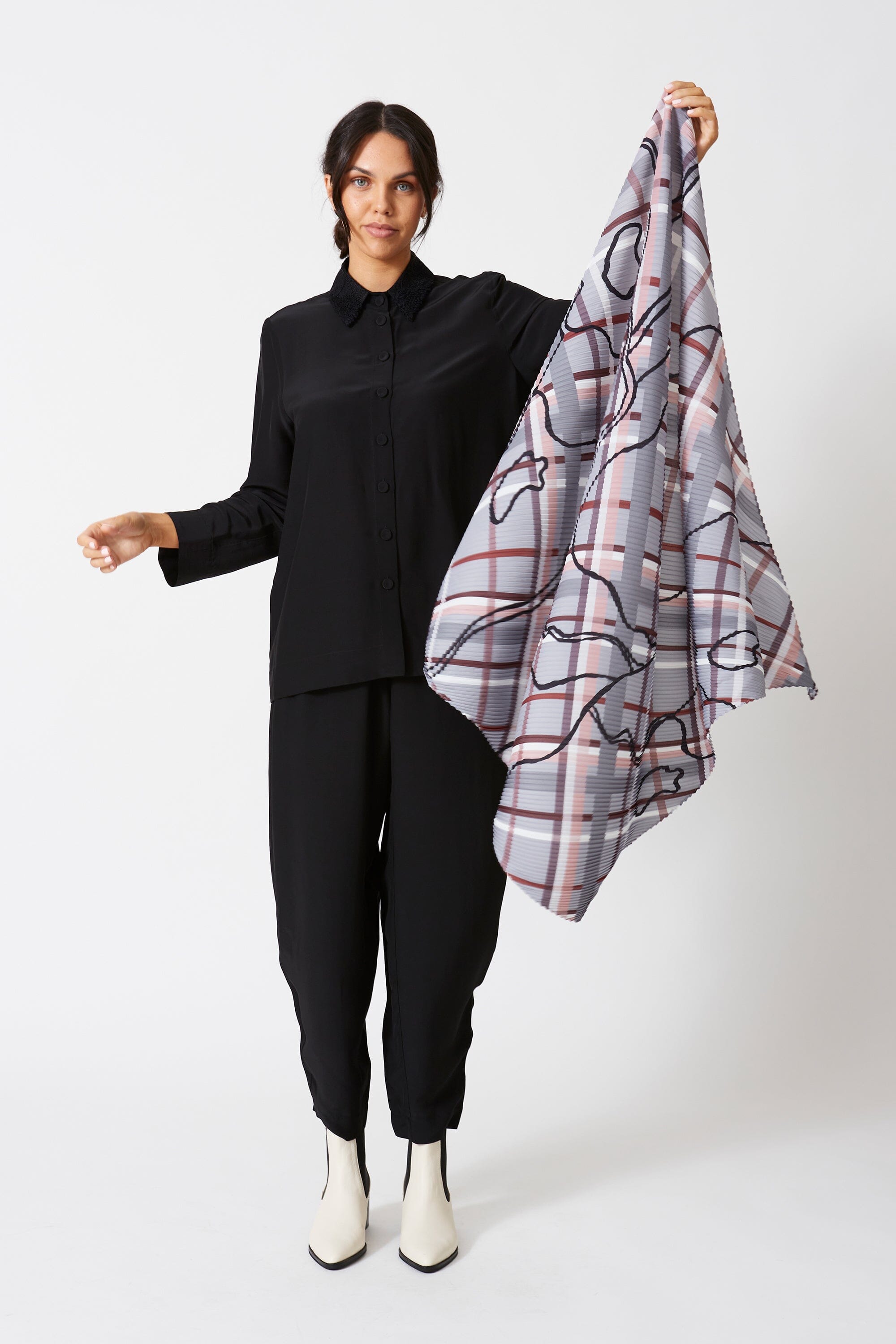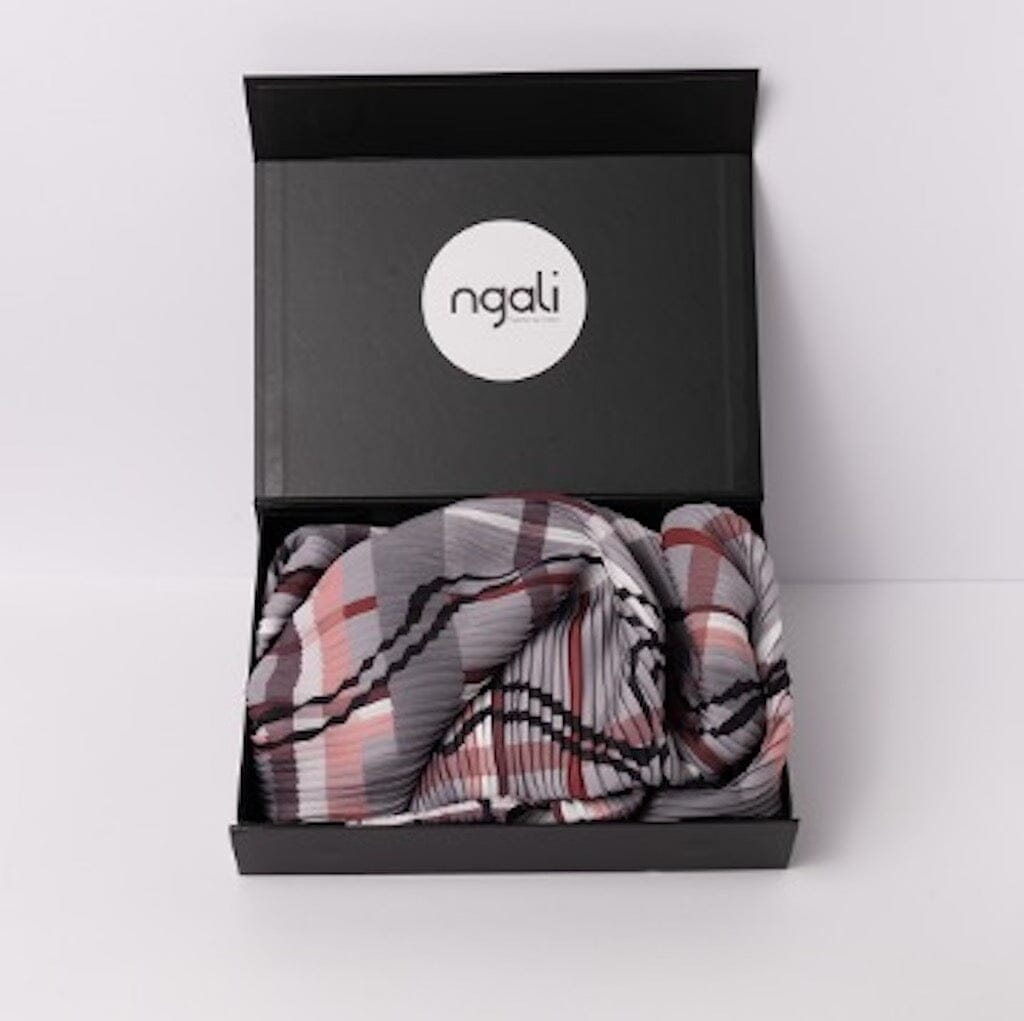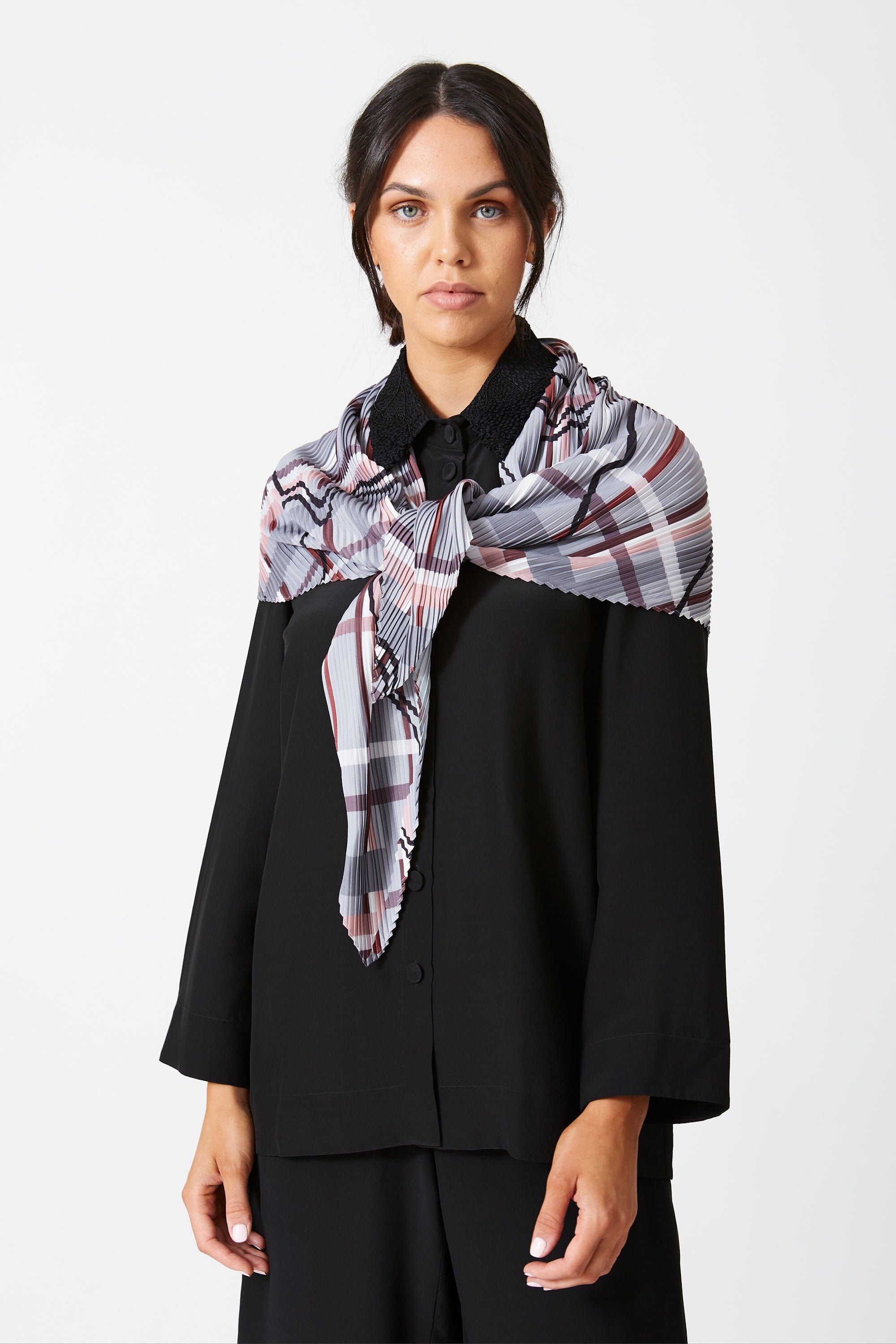 Seeing from Above Grey Pleated Scarf
This beautiful pleated scarf, inspired by the Aboriginal artwork of Gija Man Lindsay Malay, is the perfect accessory that ensures ultimate wearability. Layer it around the neck or as a bustier over an outfit, effortlessly adding another dimension to your look.

Ngali prints are translated from actual artworks we strive to keep the essence of the work and show the organic nuances of the paintings. You will be able to see the work of the artist within the prints themselves.

Adapted from the Artwork © Lindsay Malay

Fabric: 100% Polyester
Colour: Grey/White/Mahogany

Cold delicate hand wash
Do not bleach
Drip Dry Do not tumble dry
Cool Iron
Dry Clean
- Pleated on Bias
- Made in China
- Model: Height 175cm
- 110 x 110

Please Note: Polyester is required to ensure the permanence of the pleating. This product will last for the longest time and can be recycled or up-cycled in the future. Please do not steam iron, flat iron. Dry clean only.
This print gives recognition to the walking tracks of Aboriginal people through thousands of years across our Country as seen from above.

Gija man, Lindsay Malay works from the Warmun Art Centre, located 200kms outside of Kununurra in the Kimberley, Western Australia. Warmun is renowned for its artists' use of natural ochre and pigments to denote a contemporary expression of Country and culture and its reputation is felt both nationally and internationally due to the calibre of highly successful artists in the community.

Lindsay's work is vibrant and transfixing, telling the story of the Country he inherited from his Grandfather and of which his family regained traditional ownership of in 2010.

Lindsay and Melbourne based Wiradjuri woman, Denni Francisco, founder and designer of fashion label Ngali, have collaborated to translate Lindsay's art into textile designs. This exciting collaboration was established through a shared vision of celebration culture, showcasing Aboriginal centred design and instigating mutually beneficial partnerships across the country between cross-sector Aboriginal businesses.